What kind of training will I receive at Toastmasters?
Since 2018, Toastmasters has been working with the new Pathways training concept. As a member, you automatically get access to the interactive learning platform "Basecamp" and choose one of the paths mentioned below. Pathways combines online training with regular practice in the clubs, taking on roles during club evenings and thus offers a very effective rhetoric and leadership training program.
Pathways integrates professional public speaking and leadership training in 11 different pathways based on the following


Core competencies:
Public speaking
Interpersonal Communication
Strategic Leadership
Management
Trust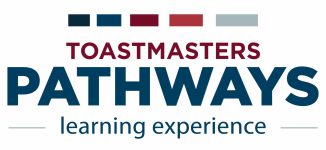 Professional rhetoric and leadership training
From the following options, choose the path that most closely matches your own desires:
Dynamic Leadership: strategic leadership and conflict resolution skills.
Effective Coaching: Interpersonal communication, leadership and coaching skills
Innovative planning: creative project management and communication skills
Leadership development: communication and leadership skills
Motivational Strategies: motivational leadership and communication skills
Influential persuasion: leading in complex situations
Presentation mastery: public speaking skills
Strategic Relationships: networking, leadership and communication skills
Team Collaboration: partnership leadership skills
Visionary Communication: innovative leadership and communication skills
Engaging humor: discovering and using your personal humor style
Each path consists of five stages:
Mastering the Basics. This stage is the same in all paths
Recognizing one's own style
Building further knowledge
Building special skills
Demonstration of specialized knowledge.
From level 3 onwards, elective modules are offered. You can choose the pace of learning and practicing individually and also determine the content of your speeches yourself. You can find more information here.